Dataforth 2017 Product Catalog
Press Release
Release Date: Jun 26 2017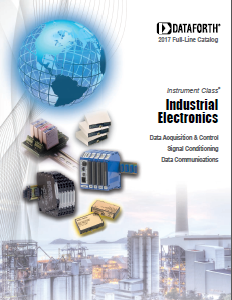 Since its beginnings in 1984, Dataforth Corporation's commitment has been to successfully meet customer needs through ongoing design, development, and manufacture of top quality, affordable Industrial Electronics. Now, 35 years later, Dataforth's high-performance Instrument Class® data acquisition & control, signal conditioning, and data communication products continue to ensure rugged signal and data integrity, wide spectrum accuracy, and unrivaled reliability for wide-ranging industrial applications around the world.
"As customer needs continue to change, we are ready to meet whatever challenges come up," says Georg Haubner, VP Marketing and Sales. "For example, we have recently introduced two modules for our high performance MAQ®20 Industrial Data Acquisition & Control System – greatly expanding system capabilities and flexibility – and two additional modules will be released in coming months."
Dataforth's 319-page 2019 Full-Line Product Catalog provides the most up-to-date information and specifications for all Dataforth signal conditioning, data acquisition, and data communication products – including detailed descriptions, block diagrams, specifications, and ordering information for all modules in the MAQ20 family.
Product lines included in the catalog are:
Renowned for their accuracy, reliability, cost-effectiveness, and overall outstanding performance, the Dataforth families of SCM5B isolated analog signal conditioning modules and SCM7B isolated process control signal conditioning modules provide ±0.03% accuracy and 1500Vrms transformer isolation. The 250+ different 5B modules offer 3-way isolation, 5V supply voltage, and "Lab" performance; the 202 7B modules provide 2-way isolation, 24V supply voltage, and "Industrial" performance. All modules are CSA C/US Certified and CE and ATEX Compliant. Custom modules are available.
The SensorLex® 8Bisolated analog signal conditioning modules offer Instrument Class® performance in miniature size - making them ideal for embedded or portable applications. Since being introduced in 2005, the 8B line has grown to 19 family groups and 123 different modules, which provide ±0.05% accuracy, ±0.02% linearity, and 1500Vrms transformer isolation. All are CE Compliant with UL/CUL Listing and ATEX Compliance pending. Custom modules are available.
The SCM9B family is made up of isolated, intelligent, software configurable sensor-to-computer and computer-to-analog output modules. All are CE Compliant.
The miniature SCMD digital I/O modules provide a rugged, protective isolation barrier, effective to 4kV, between the field and the computer system.
The MAQ®20, Dataforth's 3rd generation data acquisition system, offers the industry's most affordable price per channel, as well as integral PID loop control, 1500Vrms channel-to-bus isolation, ±0.035% system accuracy, and two dedicated software packages for data acquisition and test & measurement applications. This powerful, flexible, compact system is made up of DIN rail-mounted, programmable, multi-channel signal conditioning input, output, and communication modules. It is ideal for test and measurement, factory and process automation, machine automation, military and aerospace, power and energy, environmental monitoring, and oil and gas applications.
The 8B isoLynx® SLX300 data acquisition system works with SensorLex® 8B modules and builds on the proven reliability of the SLX200 system. It can be configured with up to 12 isolated analog input channels, 4 isolated analog output channels, and 8 isolated digital I/O channels. The system also offers 7 advanced special functions and 4 alarm states. It can be panel or DIN rail mounted. ReDAQ® Shape for the SLX300 is an out-of-the-box DAQ software that provides the easiest and most efficient development tool to create, save, and open graphical user interface projects as well as to test, process, and analyze acquired data.
The SCM5B isoLynx® SLX200 is an intelligent, high speed, fully isolated data acquisition system that works with Dataforth's SCM5B modules and implements industry standard Modbus&ref; RTU and TCP protocols. The system offers maximum flexibility of analog and digital I/O selection, and all I/O is channel-to-channel and input-to-output isolated. The analog I/O modules offer ±0.03% accuracy, ±0.005% linearity, and are certified to CSA C/US, CE, and ATEX requirements.
Dataforth's high performance DSCA modules are DIN rail mount isolated signal conditioners that provide Instrument Class® performance, true 3-way isolation, and ±0.03% accuracy. They are C-UL-US Listed, and CE and ATEX Compliant. Custom DSCA modules are available.
Other products include CE Compliant 4 to 20mA DSCL and DSCP industrial loop isolators and transmitters. These offer passive, active, and programmable options and include the new compact 6.2mm DSCP dip-switch configurable signal converters, which are ideal when space is limited. The DSCT loop powered 2-wire transmitters provide ±0.03% accuracy, 1500Vrms transformer isolation, and Instrument Class® performance in a DIN rail mount package. They are CSA C/US Certified and CE Compliant.
Dataforth's family of CE Compliant industrial data communication products protects equipment from damage due to power surges, transients, and lightning; it includes line drivers and converters for RS-232, RS-422, and RS-485 systems.
Established in 1984, Dataforth today is the world leader in data acquisition and control, signal conditioning, and data communication products for industrial applications. Worldwide, our products provide rugged signal and data integrity and wide spectrum accuracy. All Dataforth products are manufactured in the USA and have been RoHS Compliant since 2006. The Dataforth Quality Management System is ISO9001:2015 registered. To receive any of Dataforth's literature or for additional information, call 800-444-7644 toll-free, email sales@dataforth.com.
Was this content helpful?
Thank you for your feedback!